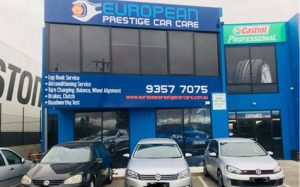 If you are having a problem with your vehicle's air conditioning system, stop by European Prestige Car Care for genuine car air-con services. We understand that running your car AC not only keeps you cool during summer but can also remove humidity from the cabin. Car AC systems contain a myriad of hoses and seals that can dry out or crack which might lead to coolant leaks and poor performance. That's why you must get your car air conditioning system serviced on a regular basis. We provide a full suite of AC services that include checking, servicing, repairs, and new unit installation.
Checking & Servicing
Our regular service check for the AC systems will include checking for obvious faults which may be associated with the air conditioning system, such as drive belt tension, visible signs of refrigerant leaks and loose or faulty compressor or equipment mounting brackets, but it is a good practice to have a comprehensive air con service. Our skilled and efficient mechanics will perform a series of checks and fix the issue to get your air conditioner in excellent working condition.
Repairs
If you suspect that your vehicle's AC is not blowing cool air, smelling fishy or making the strange noise, bring in your vehicle for air conditioning repair. We will inspect the vital components and perform necessary repairs, ensuring that your stay cool throughout your journey.
Installation
We have experts who can perform air conditioning replacement and installation on vehicles of all makes and models. Our mechanics evaluate your needs and recommend the best cooling unit for you. With our knowledge and experience, we can provide a solution that meets your exact requirements.
At European Prestige Car Care, we have the resource to provide a comprehensive range of automotive services, so whenever you need some assistance with your car, feel free to call 03 9357 7075. Our services are available to vehicle owners in Campbellfield, Epping, Craigieburn, Roxburgh Park, Broadmeadows, Meadow Heights, Morang, Greenvale, and the surrounding suburbs.
Aircon Licence Number – AU41783